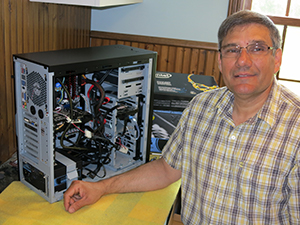 When your computer needs repairs or service to set it running right again, you can't trust just anyone. Mishandling your data can lead to bigger issues and if the original problem isn't addressed properly, it can persist and get worse.
The smart thing to do when you need computer repairs or computer virus removal is to contact Mark Wilcox Computer Services, Inc. We're Comp TIA A+ certified, with a Microsoft Certified Professional Systems Engineer and Certified Novell Engineer on staff to provide professional, reliable computer services, including:
Computer & laptop repairs

From operating system crashes to physical damage to your desktop or laptop, I'm equipped to provide general computer repairs and laptop repairs across the board. No matter the operating system or hardware brand, let me restore the functionality of your computer and get you back to your digital life quickly.

Computer virus removal & malware removal

Don't let malicious programs compromise the integrity of your data and your computer. I scan for and quarantine viruses to ensure complete malware removal, getting rid of all traces of them so you can use your computer safely, without the threat of malicious data.

Tune-up services

Computer running slowly? I'll run it through a complete tune-up, including defragmenting the drive, clearing caches, flushing the DNS, cleaning up temporary files, checking connections and cabling, running diagnostics and cleaning your hardware. Your machine will run like new when I'm done!

Hard drive recovery & data recovery

Having issues with data loss? We specialize in hard drive recovery and data recovery in Mountain Iron, MN and can revive files that may have accidentally been lost or deleted. I can also help you update your hard drive to make sure accidental data loss is stopped.

Software updates

Updating your software is a great way to protect your PC from malicious hacking and problems with individual files and programs. When everything is up to date your computer will run smoother and safer. Let me help you update everything thoroughly, so you can get back to computing with peace of mind.
Parts and Components
Need a new keyboard to replace a damaged one? Looking for an SSD so you don't have to keep paying for hard drive recovery in Mountain Iron, Kinney, Saint Louis Count, or Wolf, MN? Look no further! I sell only top-of-the-line, name-brand parts and components, guaranteeing the best possible operation from your PC. My selection of parts in-stock and available for order include:
Active switches
Backup drives
Battery backup
Chassis
External hard drives
Fax machines
Flash drives
Internal hard drives
Keyboards
Mice
Monitors
Installs all parts/components
Network access storage
Network cards
Portable drives
Printers
Replacement fans
Replacement power supplies
Routers
Sound cards
Surge protectors
Video cards
Contact Mark Wilcox Computer Services, Inc. today for assistance with computer repairs or computer virus removal or to inquire about any of the parts we have available. Reach us at 218-735-8212 for complete PC and Apple services for your office or home setup.